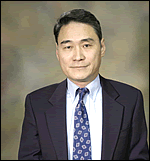 Andrew H. Sung
Holm Bursum Professor of Computer Science and Information Technology
New Mexico Tech
E-mail : sung@cs.nmt.edu
Web Page: http://www.cs.nmt.edu

Brief Bio of Professor Andrew Sung
Andrew H. Sung is professor and chairman of the Computer Science Department at New Mexico Tech and a coordinator of the university's Information Technology Program. His current researchis focused on soft computing and its applications in engineering problems and, especially, information assurance.Sung received his M.S. in Mathematical Sciences from University of Texas at Dallas in 1980, and Ph.D. in Computer Science from State University of New York at Stony Brook in 1984.

Plenary Lecture Title:
Applications of soft computing in information security


Plenary Lecture Abstract:
Cyber security is a serious global concern. The potential of cyber terrorism has posed a threat to national security; meanwhile the prevalence of malware and the increasing incidents of cyber attacks hinder the utilization of the Internet to its greatest benefit and incur significant economic losses to individuals, organizations, and enterprises.
This talk gives a brief overview of recent progress in using soft computing methods for some challenging information security problems, including intrusion detection and malware detection.